DSP Global Funds ICAV (the "ICAV") is an open-ended umbrella type Irish collective asset-management vehicle with variable capital and limited liability registered with and authorised by the Central Bank of Ireland to carry on business as an ICAV, pursuant to Part 2 of the Irish Collective Asset-management Vehicles Act, 2015 and established as an undertaking for collective investment in transferable securities with segregated liability between its Funds pursuant to the European Communities (Undertakings for Collective Investment in Transferable Securities) Regulations, 2011 (S.I. No. 352 of 2011) as amended. The ICAV is structured as an umbrella fund and each Funds represents a separate portfolio of assets and further sub-divided, to denote differing characteristics attributable to particular Shares, into Classes.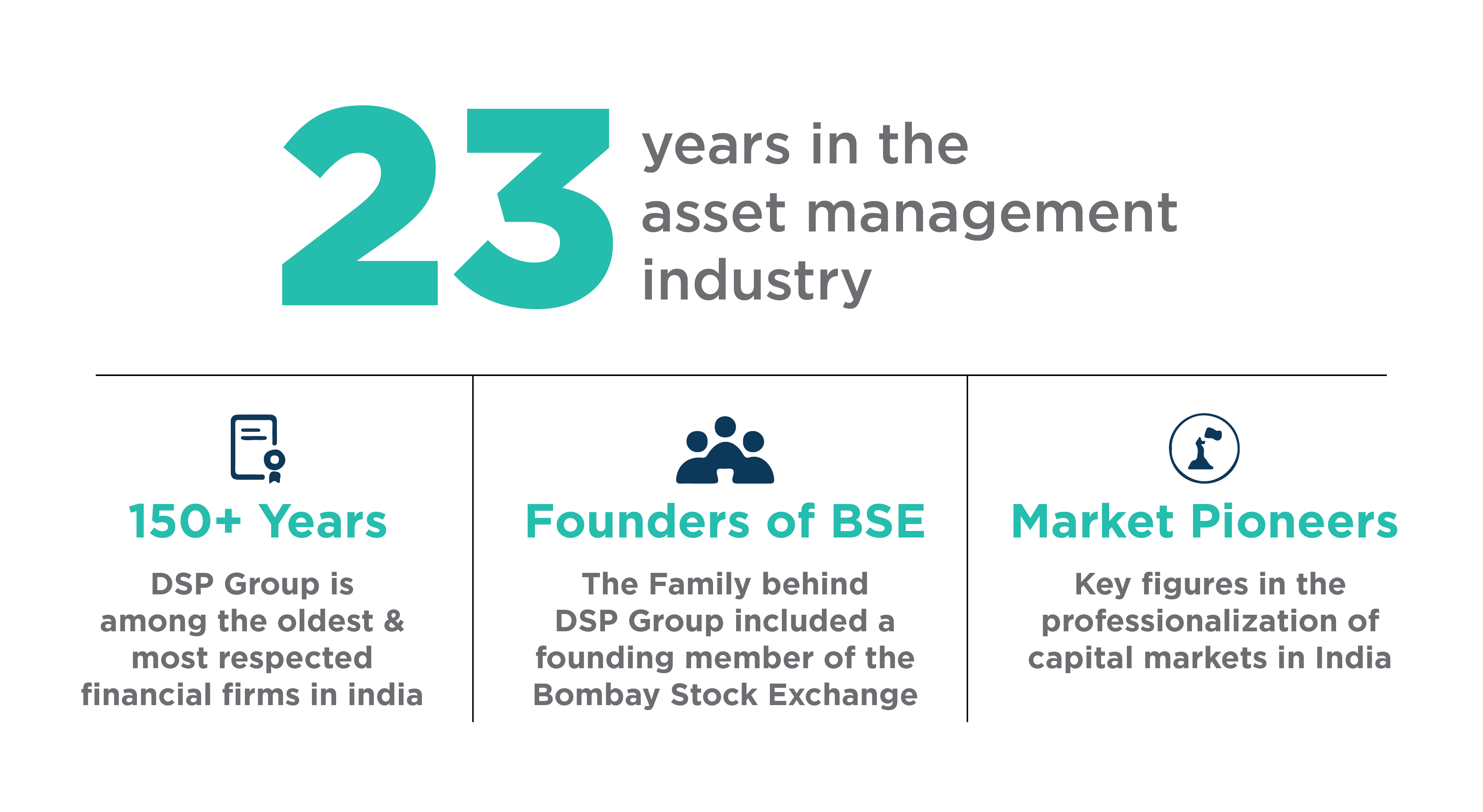 DSP Group: A legacy built over 150+ years

The DSP Group has a very rich and illustrious heritage. Headed by Mr. Hemendra Kothari, it is one of India's oldest financial services firms having commenced its stock broking business in the 1860s. In fact, one of the founding members of the DSP Group was also an instrumental force in setting up the Bombay Stock Exchange. Over the last century and a half, the DSP Group has flourished in the financial services space in India and has also played a key role in the professionalization of capital markets in India. We have evolved over the years – from stock broking in the 1860s, investment banking in the 1970s to wealth and asset management from the 1990s to the present. During our journey we have gained substantial international experience from our partnerships with Dresdner Bank AG, Banque Francaise Du Commerce Exterieur (BFCE), Swiss Bank Corporation (now UBS), Merrill Lynch and BlackRock. We have always kept the philosophy of #DoGoodBeGood at the forefront of all that we do. Our focus is to always do what is right for our investors, without any compromise. This tenet has always helped us through both good times as well as challenging times Today, DSP Global Funds is an established player in the asset management space and is counted among India's most respected investment management firms.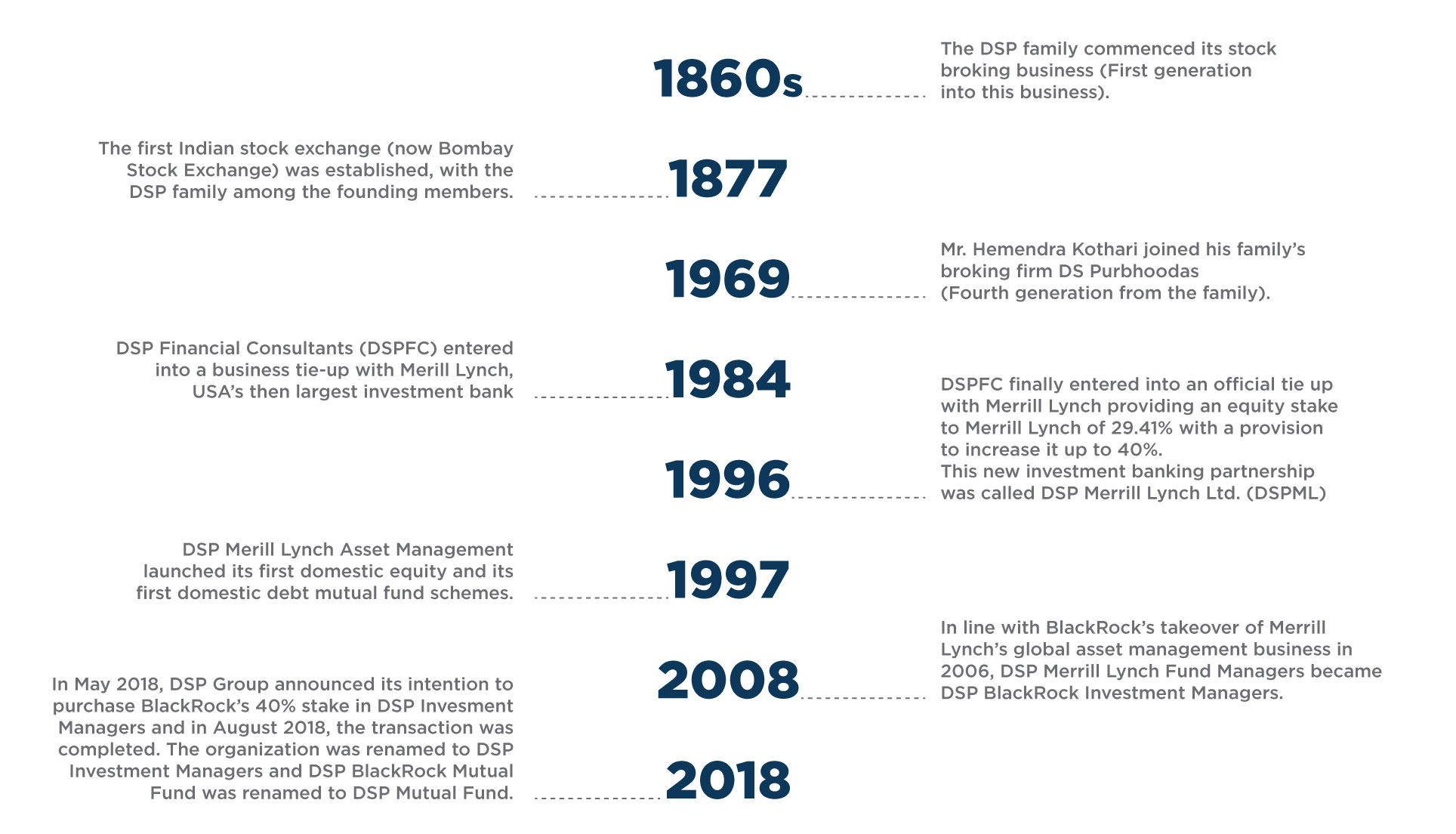 DSP Global Funds ("DSP") advises and manages capital for global clients, including sovereign wealth funds, pension funds, insurance companies, family offices, endowments, foundations and other foreign investors with regards to their investments in India.
Over the years, we have always looked to adapt to changing market scenarios, while always remaining true to our core philosophy:
Our singular focus on asset management
Our conviction on India's growth story and ability to take advantage of the volatility and dispersion inherent within the Indian markets.
Our unwavering belief in managing our investors' money with the right values, principles and utmost professionalism. Discipline, integrity, analytical rigour and risk management are the core principles that help us deliver good investment outcomes for our investors.
Our constant focus on fostering a process driven, scientific environment for smart, curious and ambitious people to do their best work.
Here are additional details pertaining to the ICAV:
---
Investment Manager
DSP Investment Managers Pvt. Ltd.
10th Floor, Mafatlal Centre, Nariman Point
Mumbai
Maharashtra
400 021 India
There are 2 Global Distributors to the ICAV
www.dspim.com
---
Global Distributor
DSP Global Services (Mauritius) Limited
No. 62, ICT Avenue,
11 Floor, Suite 1110,
The Core, Cybercity,
Ebene,
Mauritius
---